A simple chair with reinforced four corners that can be simply unfolded.
It weighs about 300g and has a load capacity of about 120kg. A compact chair that uses a 7075 extra super duralumin frame that boasts outstanding strength. Comes with a storage bag and can be folded into a super compact size. It can be easily carried in a bag, so it is recommended for everyday use. Available in 3 colors: red, green and blue.
Uses high-performance material "7075 extra super duralumin"
Adopts "7075 Extra Super Duralumin", a highly functional material that boasts the highest strength among aluminum alloys and is also used as a material for aircraft. Lightweight and compact size is now possible.
Four corners are reinforced with stainless steel parts
The strength is increased by using stainless steel parts in the four corners of the seat. As it is made of stainless steel, it is resistant to rust and is durable.
Slim storage type that is convenient to carry
It can be stored slimly when folded, so it can fit in a Zack's plastic bottle holder. It comes with a storage bag that is convenient to carry.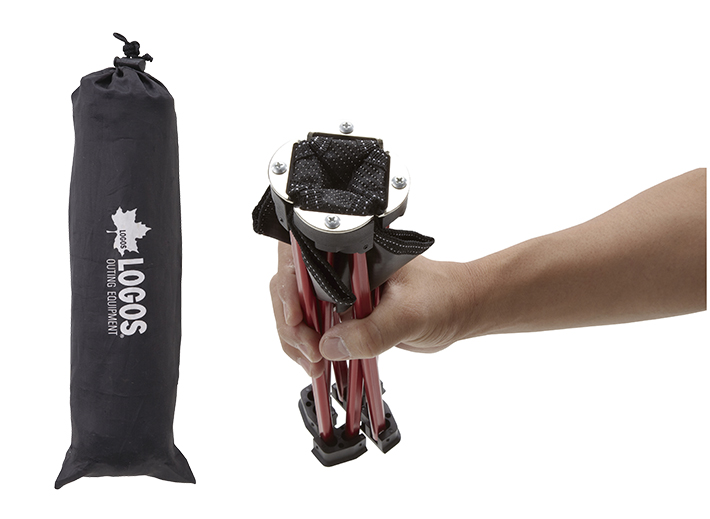 Product spec :
Total weight: (approx.) 300g
Size: (approx.) height 21 x width 20.5 x depth 20.5cm
Storage size: (approx.) length 27.5 x width 6 x height 5cm
Load capacity: (approx.) 120kg
Main material: 7075 extra super duralumin , Polyester
Performance/Features:
・Uses 7075 ultra-super duralumin poles
・Ultra-lightweight stool
・Slim storage
・Storage bag included
*Product specifications are subject to change without notice.